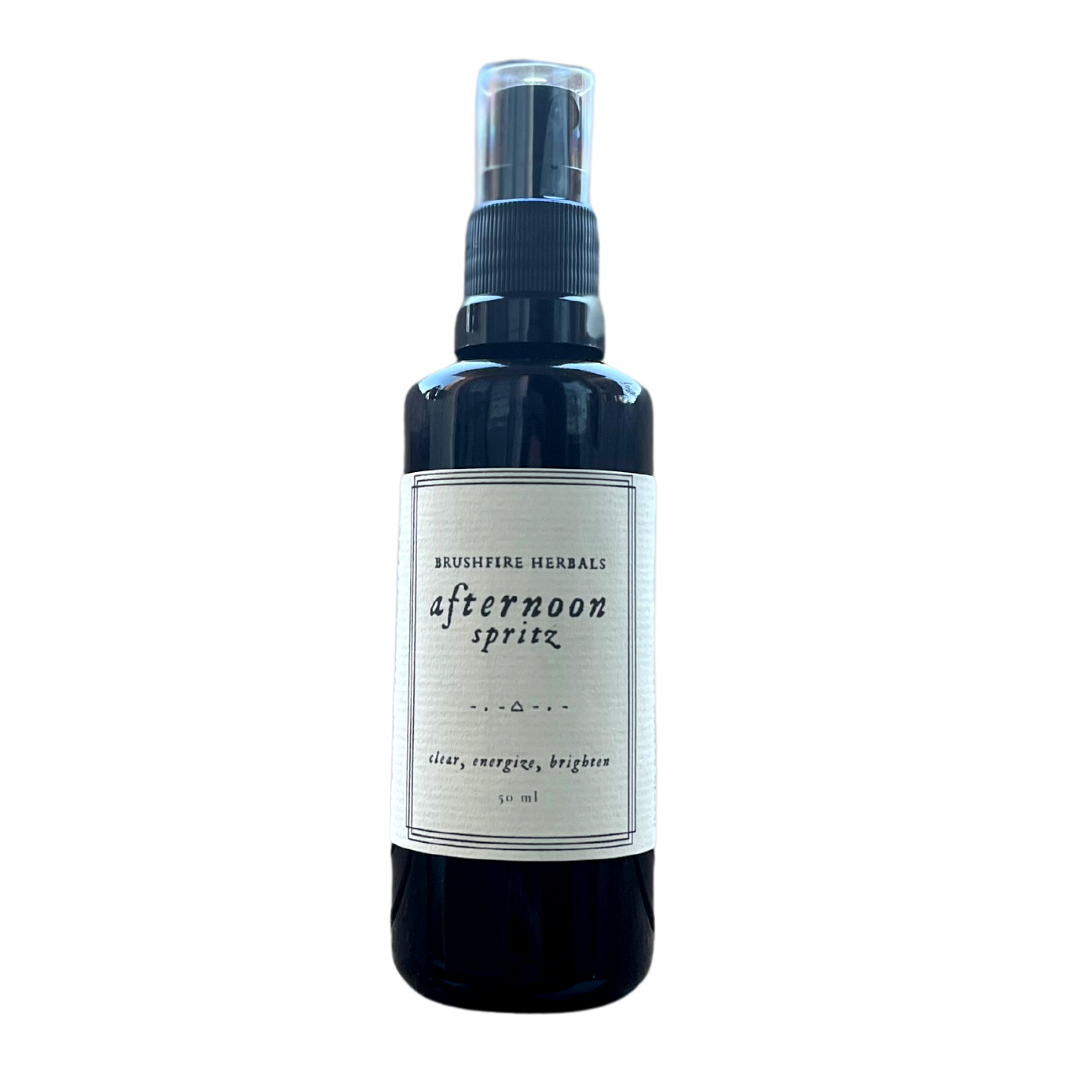 Sometimes you need to clear the space and change the vibe.
Lord knows we needed it, so we made it.
Afternoon Spritz is a fragrant mist with a sprinkle of magic.
The perfect mate for your desk, purse, counter or rush hour ready in the car glove box.
A formula composed of nature's most royal and sacred essential oils, hydrosols and gem essences, this aromatic ally is hand-crafted in small batches and has been designed to clear, uplift and empower. 
First, transport through a soothing field of Bulgarian Roses. Then be enchanted by a grove of Neroli blossoms and revitalized by a Frankincense forest. The journey ends with rich notes of Sandalwood to anchor and ground with a sprinkle of Citrine Essence to empower and energize. 
Elevate your desk life. Spritz off that weird call. Gear up for that conversation and power through the afternoon with a smile.
A little goes a long way and one spritz could change your whole day ;)
Luxuriously packaged in a 50 ml bottle of ultraviolet infinity glass for maximum freshness and longevity.
Read the story behind this potion here.
INGREDIENTS:
Purified water, Cane alcohol, Witch Hazel ( Hamamelis virginiana), Neroli Hydrosol (Citrus Aurantium), Bulgarian Rose Hydrosol (Rosa × damascena), Essential oils of Neroli (Citrus Aurantium) Rose (Rosa × damascena), Austrailian Sandalwood (Santalum spicatum), Frankincense (Boswellia carterii), Blood Orange (Citrus × sinensis), Citrine Essence
all organic, ethically wild-crafted and therapeutic grade.
*Essential Oils: Steam distillations or solvent extractions of large quantities of different fresh flowers, fruits and leaves resulting in a concentrated aromatic oil.
*Hydrosols: Are also known as floral waters and similar to essential oils but are the herbal distillates of fresh flowers, fruits and leaves that come from the water soluble components of plants.
THE ALCHEMY 
Rose (Rosa × damascena):
Rose is known as the highest vibrating flower and has been used over centuries all over the world in different cultures and traditions. A timeless beauty, used for the mind, body and spirit and is noted for being soothing to the nervous system, uplifting to the mood, antibacterial and toning to the skin. Precious and revered, 1 drop of rose oil takes 60 whole Roses to produce. Each spritz literally brings the meadow and this beauty demands reverence and respect.
Neroli (Citrus Aurantium) :
Neroli is seductive and enchanting. There's something familiar in her orange blossom musk. Another flower not to be taken for granted this queen brings with her the wisdom that all things ripen in their own time and every part of the process is of utmost importance. Noted for being anti-microbial, anti-fungal, anti-inflammatory and rich in antioxidants, the scent is intoxicating and brightens the spirits.
Sandalwood (Santalum spicatum):
Sandalwood is one of the wise sage's of the desert. Recognized by its silky pungent scent, this royal resin has been adorned for centuries and holds memories of our human past. Known most for its anti-septic, anti-inflammatory, and relaxant proprieties, this ancient wanderer is sturdy yet flexible and anchors us home to Planet Earth.
Frankincense (Boswellia carterii):
Frankincense, another desert ally and ancient tree teacher, has been long used for physical, mental and spiritual support. It's used in this formula to uplift spirits and soothe the nervous system.
Blood Orange (Citrus × sinensis):
Rich in antioxidants, minerals, and vitamin C never underestimate the power of citrus. Uplifting and invigorating Blood Orange energizes, purifies and acts as a harmonizer to the rest of the scent melody. 
Citrine Essence:
Opens the channels of abundance by empowering a frequency of confidence, humility and endurance.