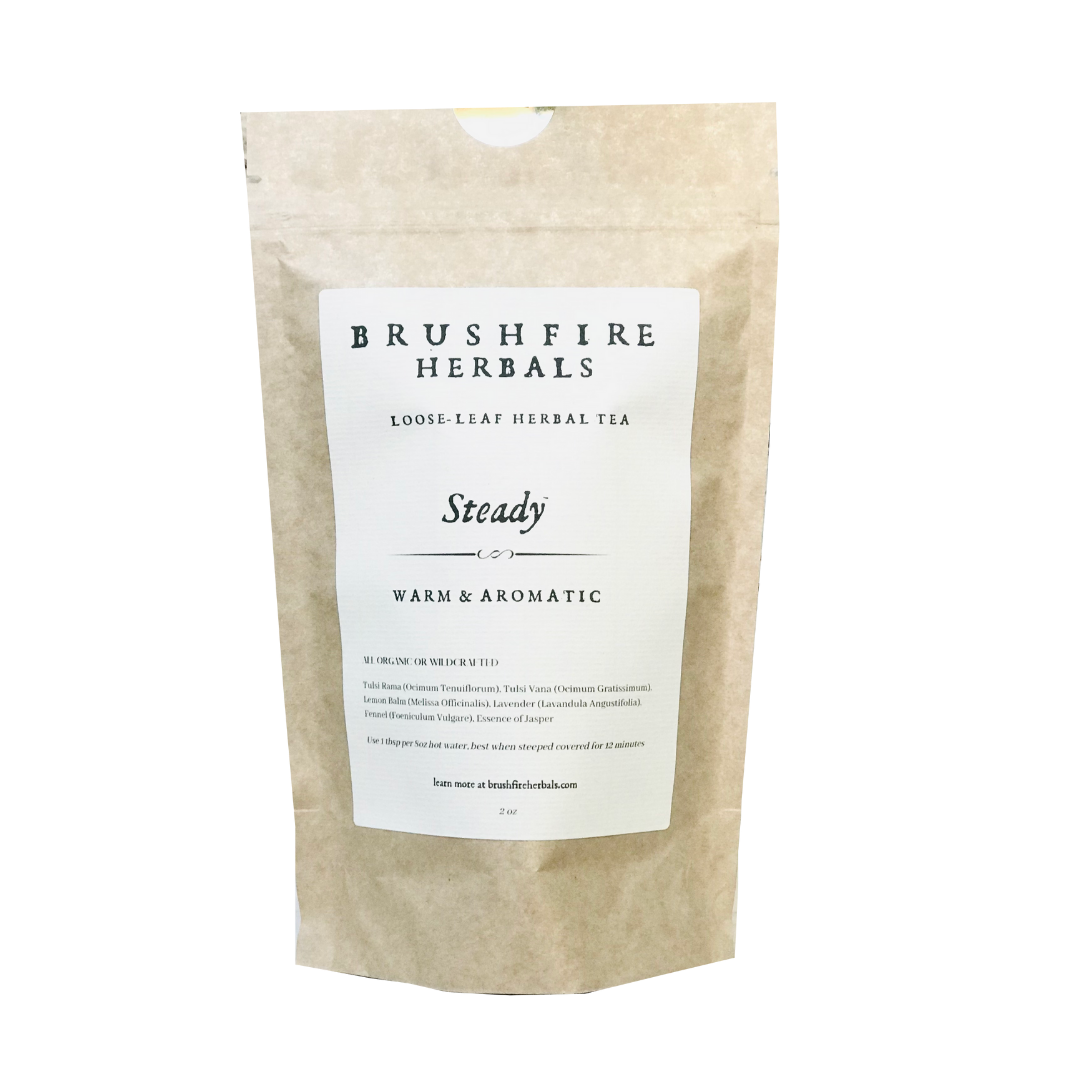 Steady as you go.

Taste: Warm + Aromatic
Vibe: Patient, Relaxed, Endurant
Keep the engine running but hand over the wheel to India's queen of the herbs. Tulsi is a foundational adaptogen in Ayurvedic healing traditions-so nice we added it twice. Formulated for daily use this sweet-spicy, caffeine free blend warms the soul and helps manage and relieve stress keeping you centered and calm despite the world around you. 

2oz / 25 servings
Loose-leaf tea comes packaged in a kraft compostable bag.
Ingredients:
Tulsi Rama (Ocimum Tenuiflorum), Tulsi Vana (Ocimum Gratissimum), Lemon Balm (Melissa Officinalis), Lavender (Lavandula Angustifolia), Fennel (Foeniculum vulgare), Jasper Essence
Tulsi: Tulsi is an adaptogen rich in volatile oils making it a great ally for the immune, digestive and nervous systems. It has been used for centuries in Ayurvedic healing.
Lemon Balm: Lemon Balm has been documented and continued to stay relevant in healing for the last 2000 years. It contains high levels of volatile oils, and is known for its antiviral and carminative properties, where it serves healthy digestion and destruction of viruses. In addition, Lemon Balm is most noted for soothing the nervous system because it is rich in brain healing compound, Rosmarinic acid, an antioxidant which has been linked to enhanced cognitive function and memory.
Fennel: Fennel is used as an effective digestive aid because it tames bloating and indigestion due to its concentration of volatile oils. It is also rich in antioxidants and known to hydrate, plump, and tone skin.
Lavender: Lavender is a soothing aromatic herb used to balance the nervous system and support healthy digestion. 
Jasper Essence: Jasper essence empowers a frequency of patience, trust and restoration. It can be used to clear anxiety from fear of the future, an over active mind, or depleted system.