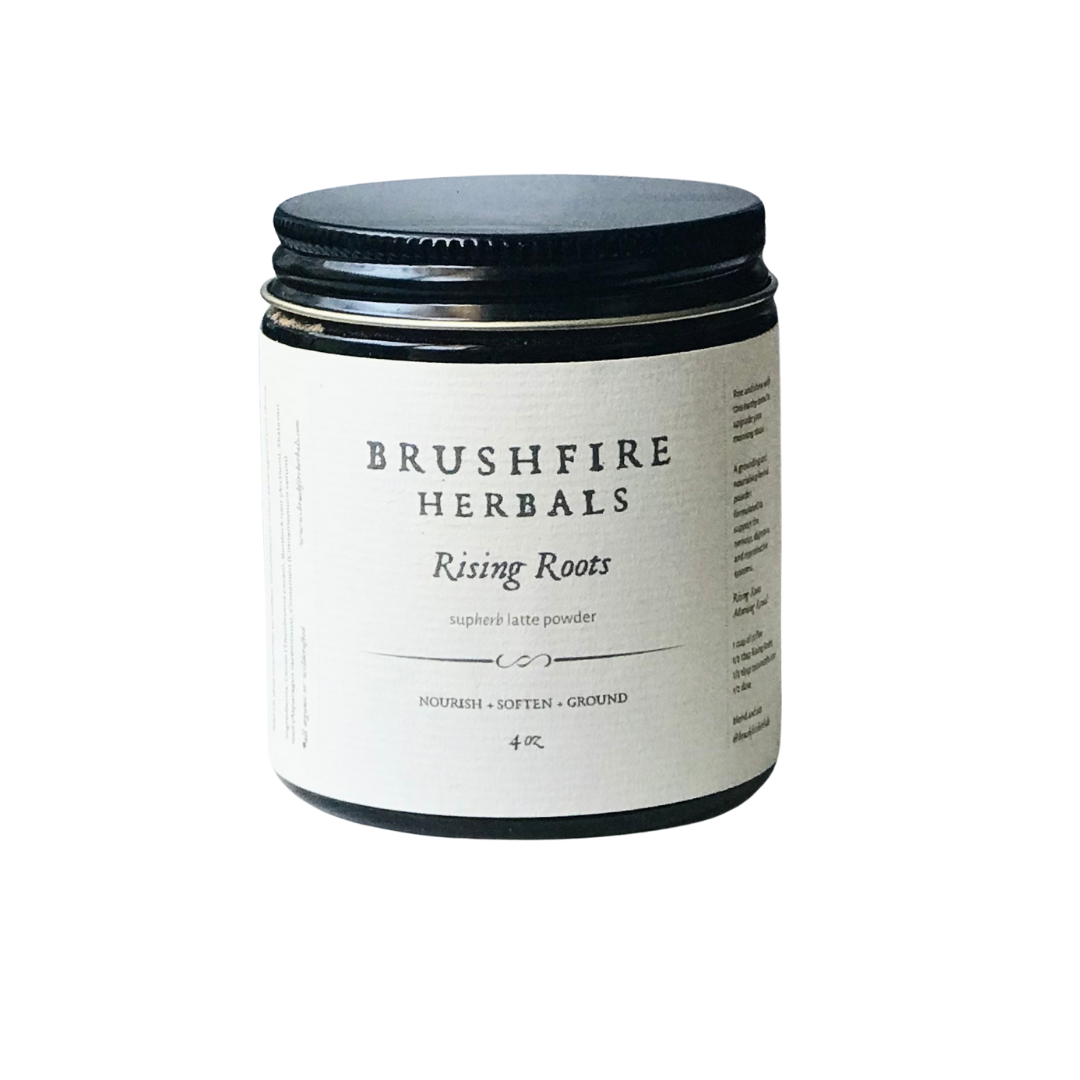 Morning sunshine.
Got something for ya.
Taste: Earthy, Chocolate, Spice
Vibe: Calm, Rooted, Growing with the flow 
A grounding herbal powder to set the tone for your day.
Upgrade your morning ritual and add to coffee or smoothies for daily nourishment of the digestive, reproductive, and nervous systems.
4oz / 30 servings
Packaged in glass amber jar.
Ingredients:
all organic or ethically wildcrafted
Cacao (Theobroma cacao), Burdock (Arctium), Shatavari (Asparagus racemosus), Ceylon Cinnamon (Cinnamomum verum) 
Cacao: Cacao is naturally energizing, rich in magnesium and has been used to support brain and heart health.
Burdock: Burdock is a prebiotic making it a great ally for the digestive system due to its concentration of inulin. It is also rich in minerals such as iron, potassium, zinc along with other volatile oils and terpenes making it deeply nourishing and wonderful support for the liver.
Shatavari: Shatavari is a time tested Ayurvedic adaptogen. This powerful root softens our hard edges and helps to manages and relieve stress all while nourishing the reproductive system. It soothes dry inflamed membranes, settles the excess, and connects us to a rhythm that is soft, patient, balanced and productive.
Ceylon Cinnamon: Cinnamon is a powerhouse for the circulatory system, supports blood sugar stabilization and drives this formula all into motion. 
A Rising Roots Ritual:

1 cup coffee
1 teaspoon Rising Roots
1/2 tbsp coconut butter (or any butter of your choice)
1/2 date (you can add a whole one if you like it extra sweet ;)
*There's a little anecdote that goes along with this ritual. As this potion was forming the first person to try it was a dear friend, colleague, and loyal customer. I had been playing with different recipes and shared some powder with her. The next morning I came over for coffee and she blended it up with some powder along with coconut butter... We each took a sip, melted, looked at each other and both freaked out because it was delicious- and pretty much, that was that. The Rising Roots ritual was born. We added an eventual date and sometimes we throw a little Reishi in there, but oh man, is it the bee's knee's. Thank you Alina! This ritual took care of us all winter and provided stability through massive transformation. Now it's the chocolate dust in my summer smoothies, keeping me nourished, grounded and gracefully flowing through stressful moments. Can't wait to hear how it takes care of you ;)