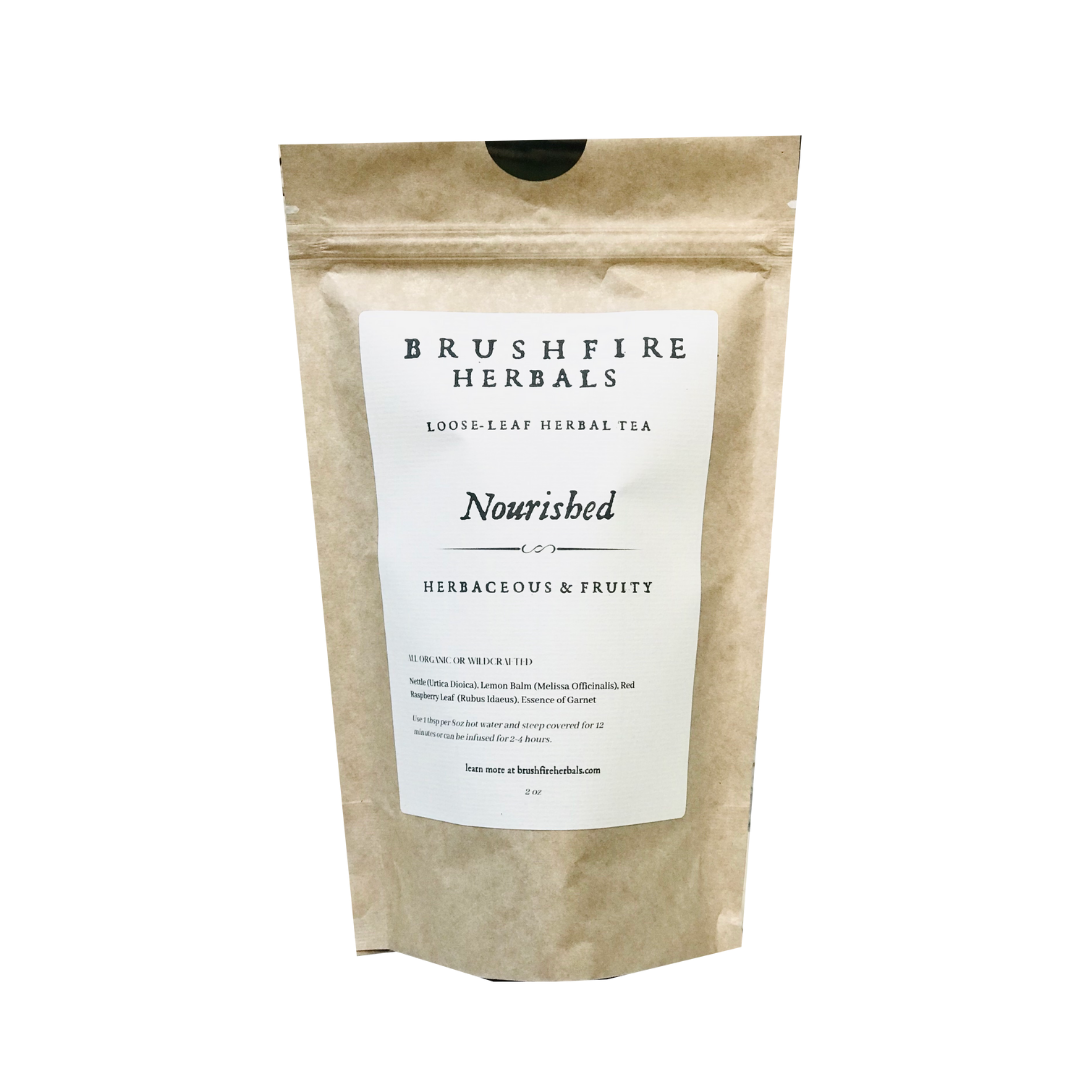 Power up, ground down.
Taste: Fruity, Fresh, Herbaceous
Vibe: Fortified, Resilient, Nurtured 
Get Nourished with this grounding, nutritive blend designed to help you power through the day. This caffeine free herbal blend provides comfort to swollen joints, overworked adrenals, and soothes a tired nervous system.

Each herbaceous, fruity sip contains vitamins, minerals, and brain healing compounds fueling the body with nutrition and supporting the nervous system.
*We love to brew this blend as an infusion for more concentrated benefit. To infuse let steep covered for 3-6 hours.
2oz / 25 servings
Loose-leaf tea comes packaged in a kraft compostable bag.

Nourished Herbal Iced Tea Recipe:
4 Tbsp of Nourished 
32 oz water just under boiling
Pour hot water over plant material, cover and let sit for 3 hours. Strain and chill in fridge. Serve with fresh mint sprig.
Assits:

-healthy digestion
-joint inflammation
-nutrient assimilation
-cognitive performance
-adrenal fatigue and nervous system health
-hair, skin and nails
Ingredients 
all organic or ethically wildcrafted
Nettle (Urtica dioica), Lemon Balm (Melissa officinalis), Red Raspberry Leaf (Rubus idaeus), Garnet Essence
Nettle
Nettle has been used for centuries in different herbal traditions prized for its versatility and resilience. Rich in the minerals iron, calcium, chlorophyll, vitamin a, vitamin c, it is known to support kidneys, adrenals and inflamed joints. It is a wonderful tonic for the hair, skin and nails.
Lemon Balm

Lemon Balm has been documented and continued to stay relevant in healing for the last 2000 years. It contains high levels of volatile oils, and is known for its antiviral and carminative properties, where it serves healthy digestion and destruction of viruses. Lemon Balm is also rich in brain healing compound, Rosmarinic acid, an antioxidant that has been linked to enhanced cognitive function and memory.
Red Raspberry Leaf
Red Raspberry Leaf is rich in vitamins and minerals with a fruity, astringent taste. It tightens and tones tissues, making it a great ally for glowing skin as well as being a powerful uterine tonic and a wonderful friend for mothers at all stages. It has also been known to support healthy digestion and strengthen the immune system.
Garnet Essence 
Garnet essence empowers a frequency of bravery, stability, compassion and humility. It can be used to harmonize imbalances of the root chakra and when there is a need for courage, Earth wisdom, or ancestral healing.